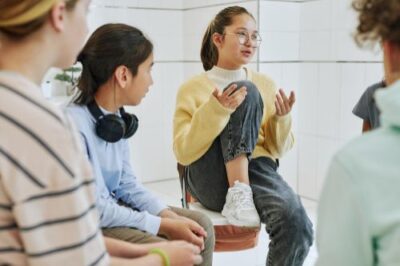 BAPFS is excited to offer in person, Dialectical Behavioral (DBT) Skills Group Therapy to teens and adolescents, starting the second week of January 2023. Child Psychologist Dr. Jenna Khoury will lead our 14-week groups each Wednesday evening from 6-7:30pm. These groups will focus on skills to address emotion dysregulation, distress tolerance, interpersonal effectiveness, and mindfulness. Our DBT groups will offer in person, bi-weekly optional parent meetings, Thursdays 7-7:30pm, in order to address concerns or better understanding of skills.
Joining DBT Skills Group
Each client will be assessed for appropriateness of fit prior to being admitted to group. During this intake session, I will consider whether a higher level of care is necessary based on presenting concerns. This DBT Skills Group is appropriate for teens ages 13-17 who are experiencing depressed mood, mood swings, anxiety, conflict with peers or parents, self-harm, or thoughts of suicide.
Clients' attendance is mandatory for each session, as there are no repeat skills groups. However, parent Q&A sessions are optional. The fee for this 14-week DBT Skills Group is $1,500. No refunds will be provided based on missed groups and payment is due before the start of the program.
If you are interested in learning more or signing up, please reach out to Dr. Jenna Khoury at the contact information below.